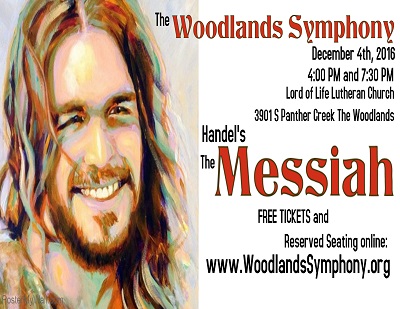 George Frederick Handel's The Messiah – The Woodlands Symphony and Chorus perform two FREE concerts as their Christmas Present to the community. In this unique version, and true to the Baroque style intended, The WSO and Choir select samples from all three sections of the most loved oratorio ever including the Hallelujah Chorus. TWO SEATINGS 4:00PM and 7:30 PM at Lord of Life Lutheran Church, 2901 Panther Creek Dr. The Woodlands on Sunday, December 4th. Tickets are FREE but you MUST request yours this year at Lord of Life Church during office hours or our EventBrite ticket outlet. (Click any of the TICKETS link about in the scrolling marquee.) It's the best way to make sure you get a seat for the show, however there is yet another way and you are guaranteed the "best seat in the house"
Make a $100 donation either on the WSO donate page or EventBrite and your chair will be held in the reserved sections. Donate $150 and get two seats held for you and a friend. Hurry as the reserved seats are limited and the FREE tickets are on first come basis.
The Woodlands Symphony Orchestrates Events!

Out of our last six concerts, four have been FREE to our audience. Our Gift to you, the people of the Woodlands, Magnolia, Tomball and Conroe that love symphony music. In addition to your contribution to attend the Midsummer Night's Dream After Hours Party, please help the Woodlands Symphony continue to bring free concerts or low priced tickets to our community by making an additional tax deductible donation. Our opening concert in September brought Shakespeare's Midsummer's Night Dream to life with a professional theatre ensemble and the WSO performing Mendelsohn's Incidental Music. Now – two FREE performances of The Messiah and there are still more to come. FREE concerts still need FUNDING. See our Gift Giving Page for details.